Eric Sirota
composer – writer – physicist
Featured on Harvard's website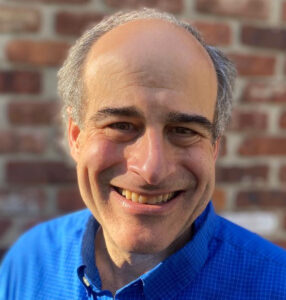 FRANKENSTEIN
a sweeping romantic musical about the human need for love and companionship
based on Mary Shelley's novel
www.TheFrankensteinMusical.com
Ran Off-Broadway for 3 years!  Now in post-production as a movie musical!
**********************
A Good Day
(my latest musical in development)
Music, memory, an old flame and Alzheimer's; You just hope for a good day.
Here is a little peak:

Excerpts from staged reading in Dec. 2022 at the Actors Temple Theatre in NYC:

www.AGoodDayMusical.com
**********************
Recent concert: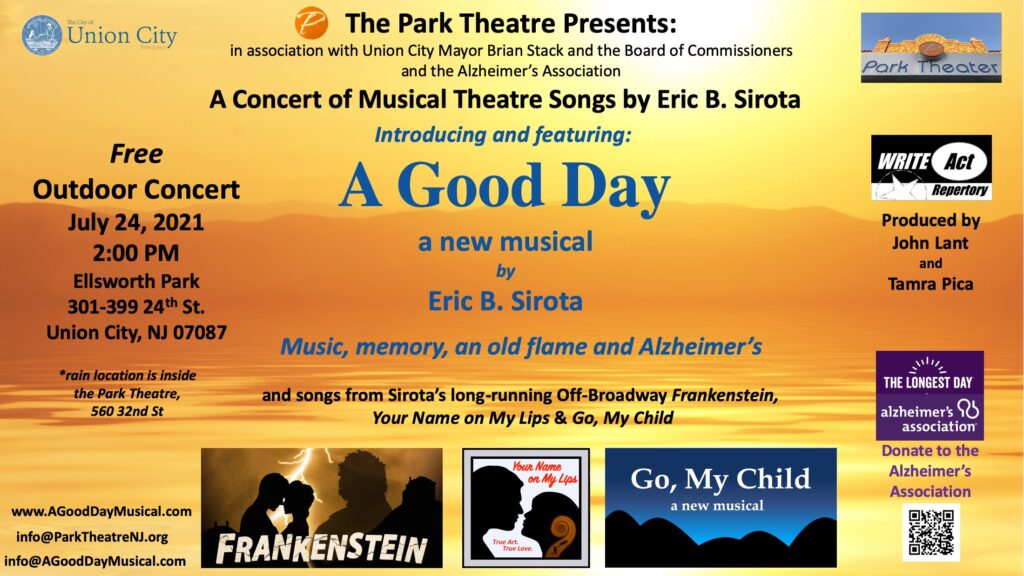 **********************
Your Name On My Lips
True Art. True Love.
www.YourNameOnMyLips.com
Sam, a self-taught painter, struggles to get into an art institute; while fighting to hold onto the love of his life, as the materialistic world tugs at her.  With a contemporary, classically-infused score, "Your Name on My Lips" will transport you back to when love was earnest, feelings deep, and romance unabashedly unapologetic.

**********************
Go, My Child
music by Eric B. Sirota;  book & lyrics by Eric B. Sirota & Julia Sirota
Leaving one's parents, infertility and the search for truth, set against a background of xenophobia;
Set in ancient Mesopotamia, Go, My Child is an original account of the early lives of familiar biblical characters.
Go here for more info and extended excerpts: https://ericsirota.com/go-my-child/
**********************
A Day at the White House
a new musical comedy
Click here for homepage and free stream
EricSirota.com/WhiteHouse

**********************
The Flemington Oratorio
On the dedication of the new FJCC building
February 26, 2006
link: YouTube playlist of performance
link: full text and info
**********************
Unetane Tokef
click here for notes & recording
https://ericsirota.com/music/UTnotes.htm

**********************
Fantasy in C for piano
click here for notes & recording
https://ericsirota.com/music/FantasyInC.htm
**********************
Voices of the Prophets: Kolot HaNevi'im
A Rhapsody for Cello and Piano
by Eric B. Sirota
Composed in honor of Rabbi Evan Jaffe on the occasion of his 20th year at the Flemington Jewish Community Center (2006)

**********************
Eric's Scientific Publications
https://scholar.google.com/citations?user=fIs6ALAAAAAJ
**********************
Articles, Interviews, Reviews
BroadwayWorld review of FRANKENSTEIN: "FRANKENSTEIN Is Alive at St. Luke's Theatre"
Theater Scene review of FRANKENSTEIN
NJ Jewish News article about influences of Jewish liturgical music on Eric's work
New York Times article by Lois Smith Brady about Eric and Cara. "Physicist and Artist Find the Formula to a Long Marriage"
Interview in The Dramatist
Article about Eric and Your Name On My Lips in Broadway World
Interview with Eric on Musical Theatre Radio

Video interview with Eric on "Hi Drama"
Video interview about A Good Day on Thornhill Theatre Space
Video interview about Your Name On My Lips on Thornhill Theatre Space
**********************
Cara London's Art website: www.CaraLondon.com
**********************
contact Eric: Eric (at) EricSirota (dot) com